Epic Arts Performance:
The Return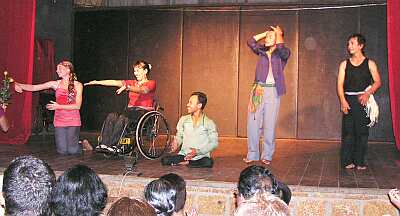 Epic Arts is an organization dedicated to enabling people with disabilities to participate in the performing arts. It was started in the U.K. In Cambodia, it is Ms. Katie Mac Cabe (left) who is the face and soul of Epic Arts, and who has organized several productions involving deaf people.
Recently she presented a show called "The Return" which featured two people who use wheelchairs, one deaf man (second right), and two able-bodied people. They performed for full houses at the Sovanna Phum theater in Phnom Penh and received a lot of applause.
---
Go to DDP Activities page
Go to Charlie Dittmeier's home page