There is a great deal of controversy in the deaf world about the cochlear implant (CI) technology in which a receiving and transmitting device (2) is surgically implanted under the skin behind the ear. An external microphone unit (1) is attached to it magnetically and transmits signals to the device under the skin. Wires from that unit bypass the damaged part of the ear and carry sound signals directly to the auditory nerve (3) in the inner ear.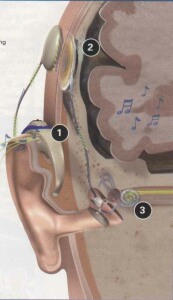 The CI does not reproduce sound as a hearing person perceives it, but it allows enough hearing that, with proper training, many people are greatly benefitted by it. Parents of deaf children, who know nothing about deafness or the deaf world, often see the CI as a miracle technology that will give their children their hearing, which it won't.
The CI has its detractors because it is expensive, requires a great deal of training for its use, and involves surgery. Many people argue that it should be provided only for adults who can decide for themselves to try this approach.
Some deaf people also criticize the CI as an anti-deaf community approach. They see the CI as lessening the number of deaf people and as the beginning of the extinction of the deaf community. This fear or resistance may seem strange to hearing people, but to deaf people who are very happy and contented members of a vibrant deaf community who use sign language, it is a real threat to their way of life.