Bangkok Airport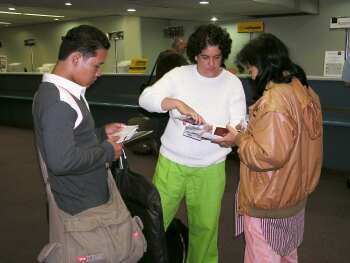 At the Phnom Penh airport, it is not possible to get onward boarding passes beyond the next stop after Phnom Penh so in Bangkok we went to Transit Desk 2 where Finnair operates and got boarding passes for the rest of the trip. Here Mat Seila (left), Liza Clews, and Chap Kim Hoeung sort out their passports and boarding cards.
---
At the hotel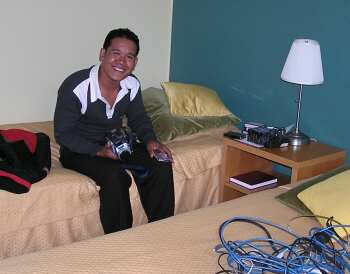 It took a little time to get through immigration in Helsinki. Many European countries are cautious about people arriving from Asia, even when they have visas already, and especially if there is a circumstance like Mat Seila being deaf. But when we got past immigration, there was Niko, a volunteer from the Finnish Association of the Deaf, to greet us and get us in a taxi to the Hotel Arthur. Here Seila gets set in his room and prepares the video camera to record some of the activities of the coming week.
---
In downtown Helsinki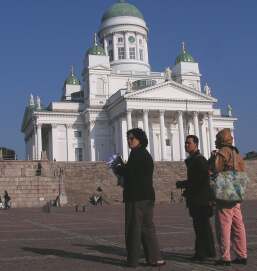 After settling into the hotel, a couple of our group took naps and then we went out to explore a little. Liza and Charlie had been to Helsinki before for other meetings and basically knew their way around the downtown area near the harbor. It was a bright, warm sunny day although the two Cambodians thought that the high 50s temperatures were really cold. This picture was taken near the cathedral by the waterfront.