Deaf Day in Kampot
17 September 2006
Every year deaf communities around the world celebrate Deaf Day, usually on the last weekend of September. Because in 2006 that weekend conflicted with several events in Cambodia, our deaf community is celebrating Deaf Day the week of September 17-23.

The Deaf Development Program organized three celebrations, in Phnom Penh and in Kampot and Kampong Chhnang Provinces. The first celebration was in Kampot, on 17 September.
---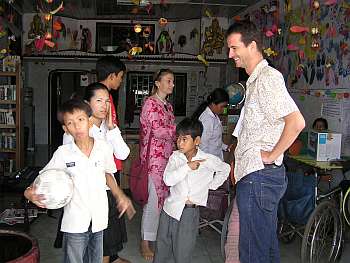 Katie Mac Cabe and Hallam Goad welcome deaf students and adults to their Epic Arts Cafe in Kampot where the Deaf Day celebration was held in that province.
---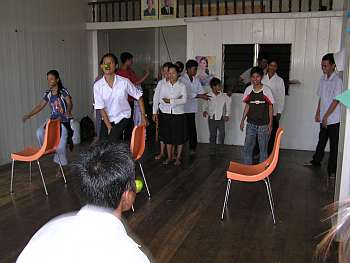 The first order of the day was a series of loud and active games which everyone enjoyed. About 25 deaf people were present, ranging in age from about 13 to 60.
---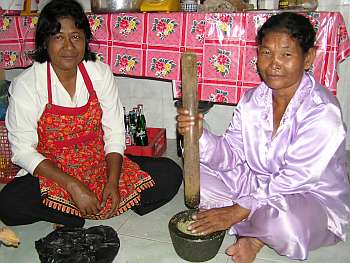 The Epic Arts staff worked hard for the Deaf Day activities. These two deaf women helped prepare the lunch.
---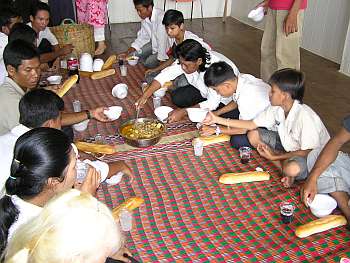 Finally it was lunch time and everyone gathered in the upstairs room for chicken curry and baguettes. It was a simple meal but provided much enjoyment.
---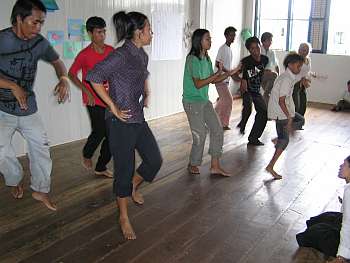 A special event was a performance by a group of deaf dancers trained by Katie Mac Cabe who brings together people with and without disabilities in the performing arts.
Activities in Kampot Kampong Chhnang Phnom Penh
---
Go to DDP Activities page
Go to Charlie Dittmeier's home page