Deaf Day in Phnom Penh
20 September 2006
Deaf Day, celebrated annually by deaf people around the world, was observed this week in Cambodia, with celebrations in Kampot on Sunday and in Phnom Penh and Kampong Chhnang on Wednesday. The main celebration was in Kampong Chhnang. These are pictures from the Phnom Penh gathering.
---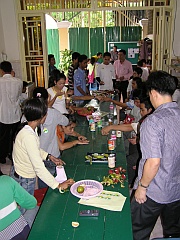 The deaf people from the Phnom Penh area gathered about noon for a lunch cooked at DDP by several of the deaf group. The DDP meeting room was changed into a lunch room with a long table.
---
A big part of the attraction for a day is like this is just a chance to hang out with deaf friends. The group who went to the Kampong Chhnang celebration in the morning returned in time to join in the games in Phnom Penh also.
---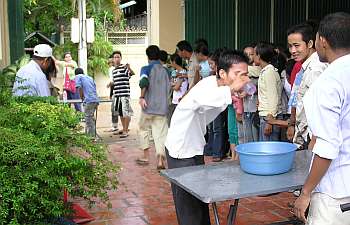 The games, planned by the deaf people themselves, were simple but fun. In this raceŚnot very hygienicŚcontestants carried water in their mouths to fill up bottles.
---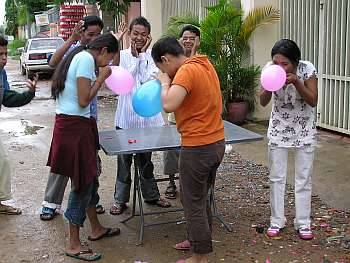 Both the boys and girls participated in all the games. Here the girls try to blow up and pop balloons quickly.
---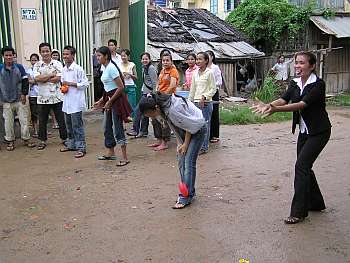 The water balloon toss is an old favorite for deaf people as well as hearing people.
---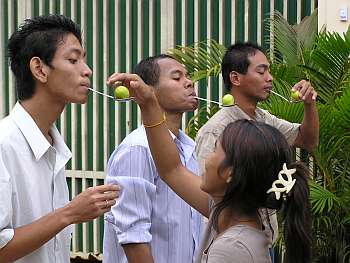 In the last game, contestants carried limes in spoons as they raced back and forth on the street in front of the DDP building. We were lucky that the rain occurred mostly during lunch time and we were able to use the street for later activities.
---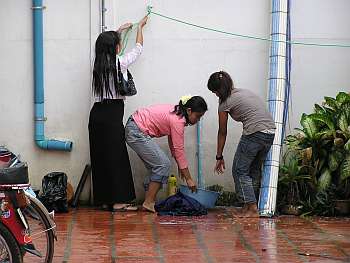 The whole crowd helped to pickup the popped balloons and trash in the street, but someone always has to stay behind to take care of the last chores like washing the table cloths.
Activities in Kampot Kampong Chhnang Phnom Penh
---
Go to DDP Activities page
Go to Charlie Dittmeier's home page